Written by Danny from old forums
I know personally I'm not great at p2p, but with all the p2p midweeks we do and all the p2p minis n shit were doing now, I've gotten better and got better at tanking and being aware about doing and taking in damage. Attend minis and p2p midweeks if you honestly want to get better. You're not going to get better when you get .5'd in p2p preps when you don't do jack shit with awful gear, work towards good gear and coming to minis. Even if you're dog shit start with p2p midweeks and get a feel for it if you're new to p2p. P2P minis will help you out more! Before going into any p2p mini/prep ALWAYS ANGLERFISH AND ANTI FIRE
When tanking:
Example:
P Neck->Shark->Brew->Karam(if needed to get ur hp up high again)
When you need prayer up
P neck->Shark->Super Restore->Karam
helps you tank have quick prayers set so you can quickly switch to protect from melee to protect from AGS specs n shit. I personally am hosting p2p minis everyday around 2/3:00pm EST 7:00/8:00pm GMT and like 8:00pm EST so if you want to get better or attend come on around those times! If we have enough we'll mini whenever as well! @•Hebi @+Daniel help get minis, so if you want to help carry this clan and help better the clan in p2p attend p2p midweeks and attend minis to get better. If you honestly need advice recommend talking to @+Scim for advice for how to tanking and what to do! He's probably one if not the best p2p warrer we have! Feel free to ask him or myself on how you need to set up your inventory for mage/N Range as well plenty of people are great at p2p. So if you're just getting into p2p or brand new to doing it ask around etc. People will always be willing to help you out and help you get better so attend minis and midweeks!
Generally this is how your gear, and inventory obviously rework it to your own liking and how you can tank best but like i said above P Neck->Shark->Brew->Karam(if needed to get ur hp up high again). Get Mith/Addy gloves if you have RFD done and use those UNLESS you can afford a Regen Bracelet. If you don't have either of these use a combat bracelet the next best thing. If you can get a berserker Ring as well if you can't warrior ring or Archer's ring is the next best thing to use for N Range. if you don't have a halo use a bear head or god mitre and for tops use a ranger tunic(for range only). If you're rich buy ranger boots(don't really need it climbing boots are better TBH. Also if you can use a blessed saradomin sword for melee, for N rangers MELEE IS FUCKING CRUCIAL TO BANG OUT PILES, damage from N rangers kills fags faster, also if you cannot afford a SS/AGS go grab a D scim and use D scim spec. D scims are a huge factor to winning minis/preps so get that shit if you don't have an AGS.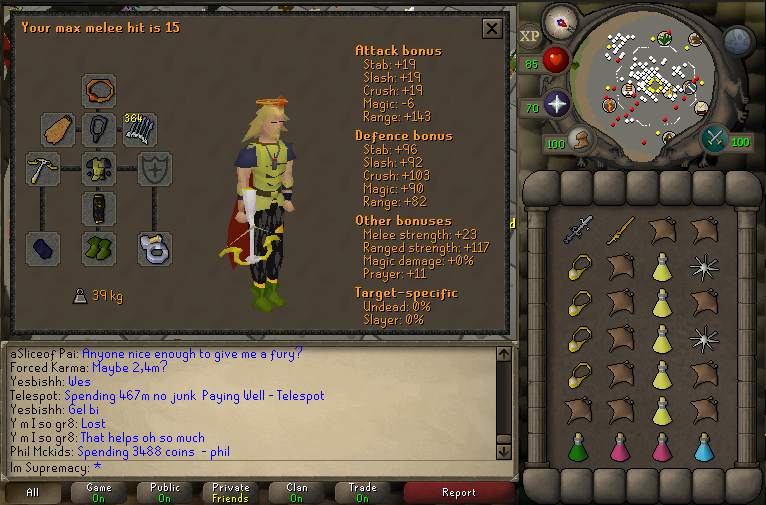 This is generally how Mage gear should look, you can also use a Mage's Wand or Staff Of The Dead but, this is basically maxed mage(get Addy/Mith gloves instead of the CB bracelet) Also get Wizard boots for better mage bonus! MAGERS YOU SHOULD ALWAYS BE D SCIMMING NO EXCUSE FOR YOU TO USE AN AGS OR ANY OTHER SPEC WEAPON. YOU'RE NOT A FAGGOT PROD SO D SCIM FOR THE CLAN. D scim specs win Preps/minis. If you're brand new to Maging its easier for you to use a mage's wand and have shit on auto cast so you can pay more attention to your HP and attacking opponents and when you're finally comfortable maging use Staff of the dead or toxic staff for better hits. Also if you can, get a rune pouch, saves you 2 inventory spaces for food to use and helps a shit ton during minis/preps get that shit if you're maging at preps/minis!
You can also Tribrid where you're primary maging but, to get better hits on usually use n range and AGS to do more damage but, I'd only recommend this to someone who's been warring for a while and good at bridding/tanking.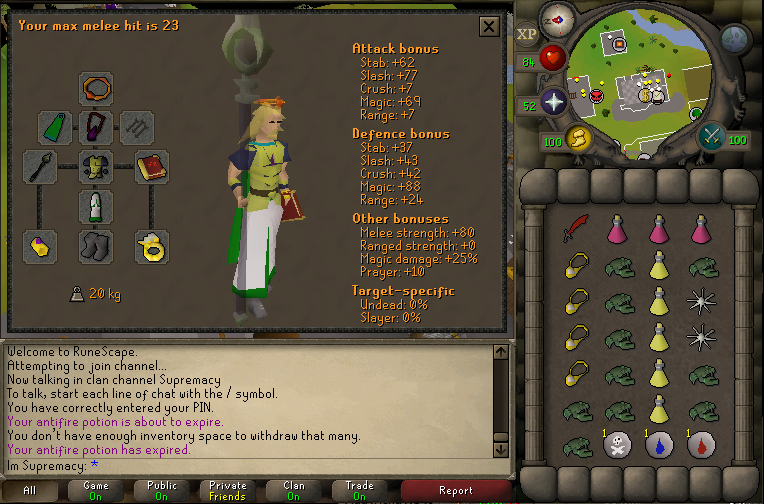 VIDEO ON HOW TO TANK! Look at how he eats, don't spam click your food and don't double click your brews like I've said twice p Neckfood/brew/karam then repeat the processes and also pay attention to your prayer also make sure you can use F keys don't be a @Ricky and not use hotkeys lmfao.
BY THE FUCKING WAY DONT FUCKING STAKE YOUR P2P GEAR MORONS