As some of you may know, Supremacy is one of the only clans to open within the first year of OSRS and stay open to this day. We set out to reinvigorate the wilderness and the LPC scene, and we achieved exactly that. These last 4 years we've had a lot of accomplishments, and this year we've been absolutely dominant in the LPC scene. We've made the entire scene shake in their boots at the thought of our approach. As a wise rodent once said "SUPREMACY IS COMING SUPREMACY IS COMING"
And you're damn right we did, all over your pathetic clan. But, I digress. Here is a look at the accomplishments Supremacy has achieved in 2018.
Special Mentions:
-Constant pressure from Supremacy causes long term struggling of AAO eventually forcing them to close.
-IR perfected on their own anniversary in 100v100 f2p wilderness full out run in at bandit camp.
-IR reduced to buying mains to fight us for them because they simply cannot compete.
-IR HQ pays 800m in attempts to attack Supremacy outside of the game, but fail and instead put the coin right into our pockets, thanks for paying for the leaks you can't catch for us. (7 btw)
-The ruthless 4 hour beat down of IR to kick off December with a heavy dose of reality for their braindead rank staff.
January
20 January 2018
Punished
AAO
to the point of near extinction and dicked
IR
all day in singles. No action for
IR
from the beginning of the year all the way up til this very day. Yikes you
losers
just close already.
AAO
and
IR
biting the curb again
Once again, proving that no matter how much help they get,
IR
has never been relevant and never will be.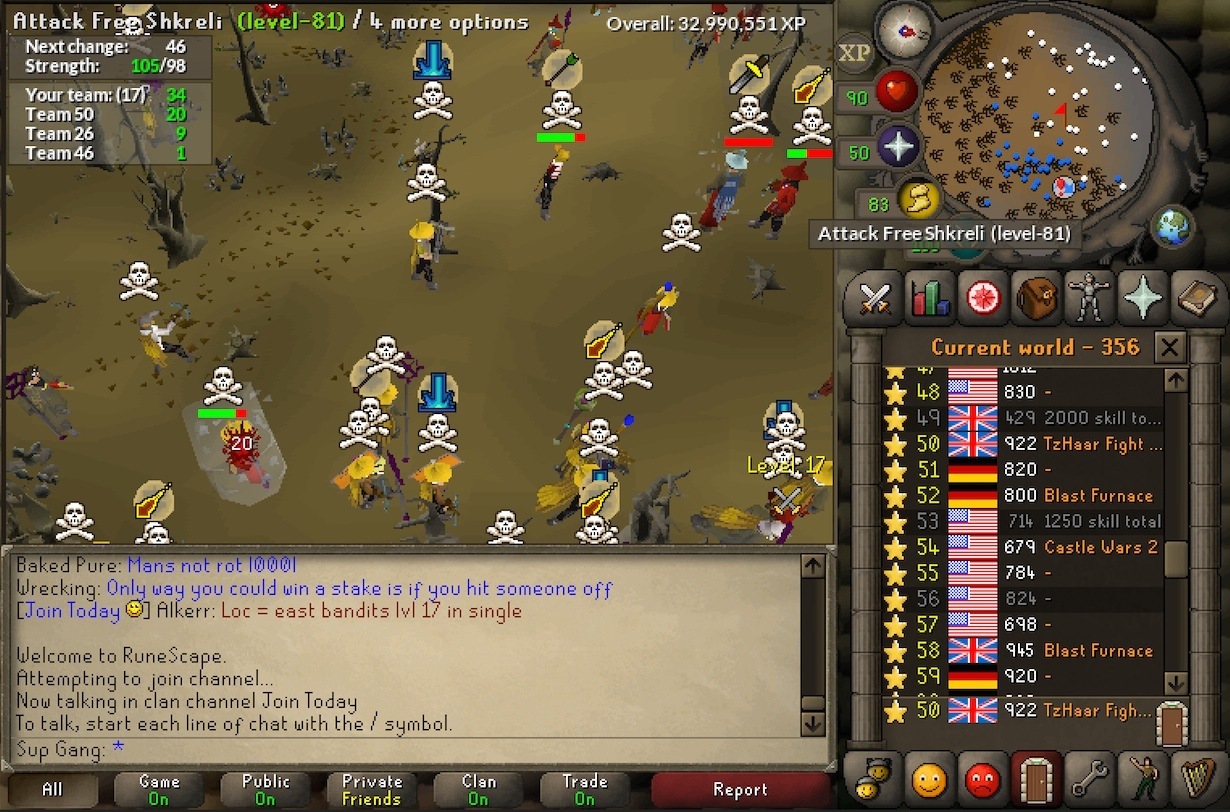 February
Supremacy
fully clearing
Fatality
in a clean 1v1 at CA.
IR
,
Apex
,
EOP
destroyed in a cluster with
Supremacy
and
Phoenix
.
April
IR
,
Apex
, and
AAO
destroyed in a cluster and dropped like flies, leaving us to a 1v1 with
Doom
, leading to a victory for
Supremacy
.
May
06 May 2018 #1 p2p trip
Cluster fight at old fog Apex getting dicked Doom cleared AAO decimated off the screen fully cleared. Supremacy was getting ready for the summer, leading off the end of spring with consistent clears on multiple clans.
June
Supremacy massed up 140 strong warriors, ready and dedicated to the slaughter of the rejects over at IR. Not only did we perfect them in a wilderness fullout on their anniversary, but we've consistently had their audio, locations, and no matter what they do we're 20 steps ahead. 7 leaks by the way. Don't just take my word for it though, the video speaks for itself. Supremacy owns IR, they are our dogs. Even Xhesi admits, they cannot compete or compare to us in any fashion. This is what all of our efforts in this "rivalry" have rewarded us. Being on top, and completely breaking this clan. Good job everyone.

Full topic links:
https://supremacy-rs...t-ir-perfected/
https://supremacy-rs...ft-apex-broken/
2v1 vs
IR
and
Apex
ends in
Supremacy
being on top, as
IR
and
Apex
rank teams hold hands in and dry each other's tears of defeat.
On the same day not only did we spank
IR
and
Apex
in the wilderness, but we put our
dogs
in
IR
in the crate outside of it as well. We abused the fact that they turned their attention to attacking us outside of the game, and they wound up paying for the leaks in their own clan for a long time to come. 800m gp spent to
FUCK THEIR OWN CLAN LMFAO.
Up until this point, they had been doxing and attempting to hack
Supremacy
ranks, stalking us on facebook, phone calls and all sorts of nonsense. They got hit with a hard reality check that they could not play that kind of game with us.
Full topic below:
July
Breaking the anti-sup alliance, cluster battle at gdz wiping
IR
and
Apex
off the face of the wilderness. The summer was filled with 2v1 victories over
Intense Retards
and
Asspex
. They figured if they can't beat us individually, they might as well hold hands while they die.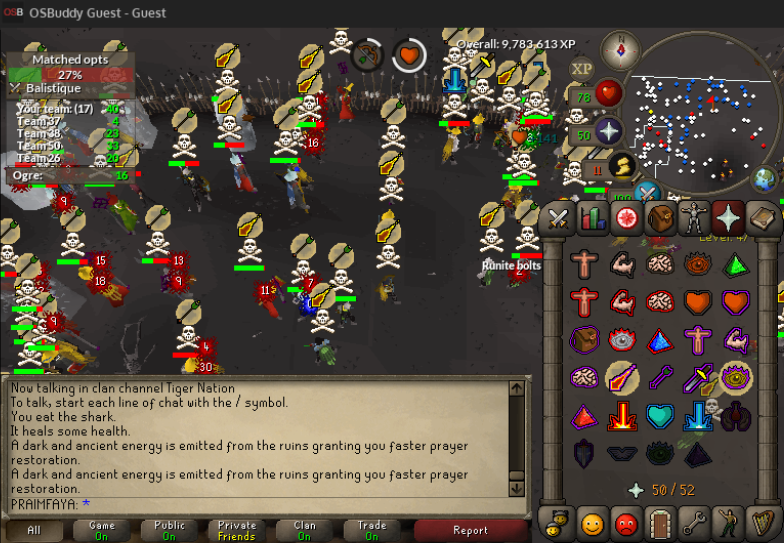 August
Destruction of
Apex
in a fight in varrock sewers, catching ridiculous clumps and destroying
Misfits
as they tried to crash. Clearing both clans. No wonder they merged.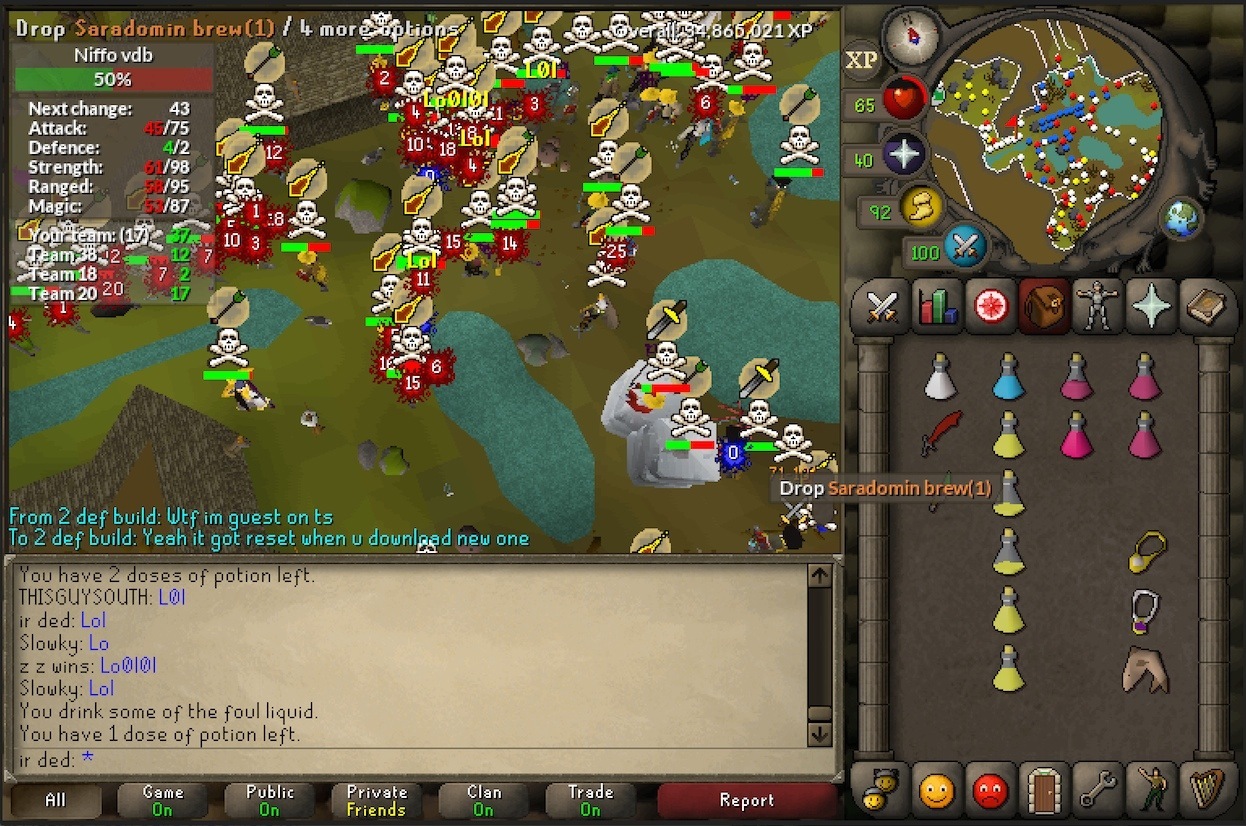 September
We call September "Suptember" for a reason. We absolutely dominated the scene throughout September and had
IR
absolutely terrified of the thought of our presence. As they should be, time and time again we punish them for piping up. The definition of insanity is repeating the same action and expecting a different outcome. I am genuinely concerned for the mental health of the rank staff over at
IR
.
"They coming"
Xhesi
so frightened he can't even spell. Let alone get away in time before we send his giant forehead back to lumbridge.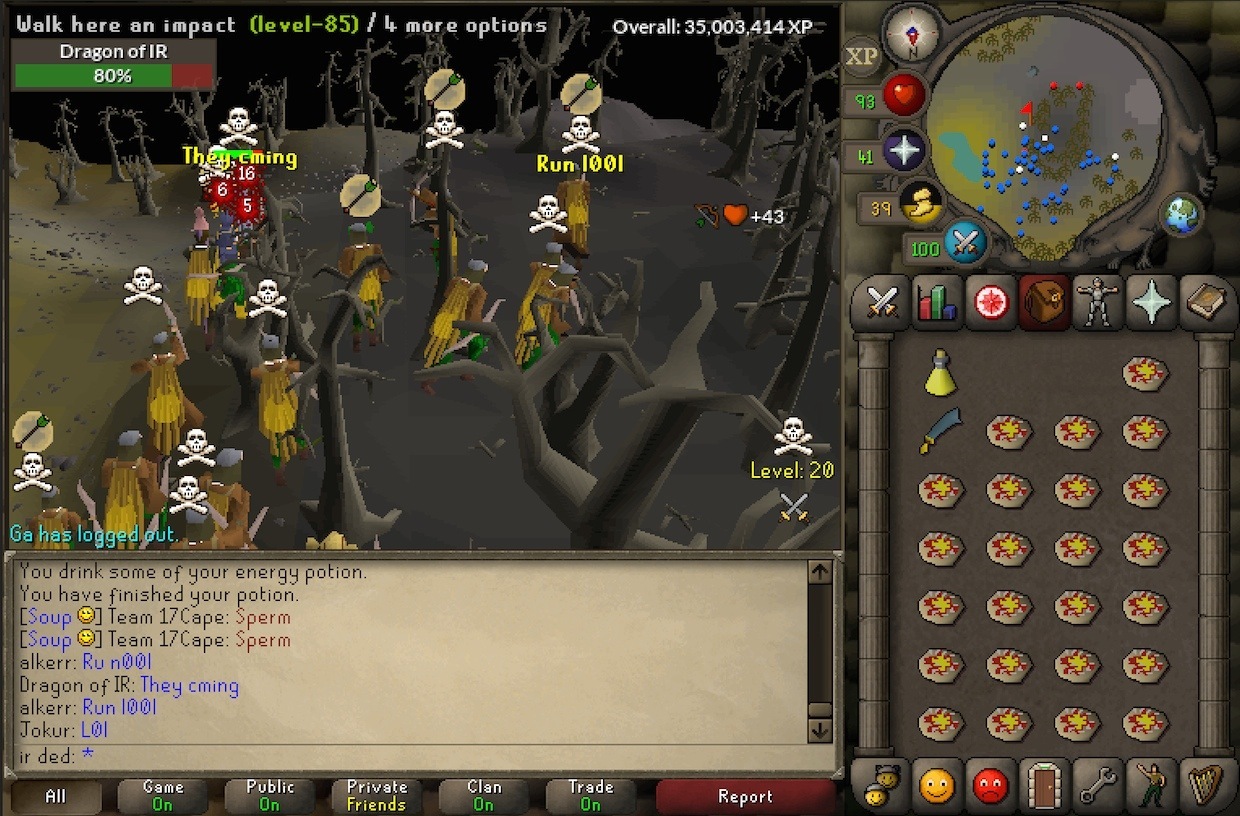 80
IR
retards get gwased the fuck out at bandits as usual. Time and time again, they try to tele down, reposition, and come back to the same result... what was that I said earlier about insanity? They went from fear to absolute panic stricken mental breakdowns.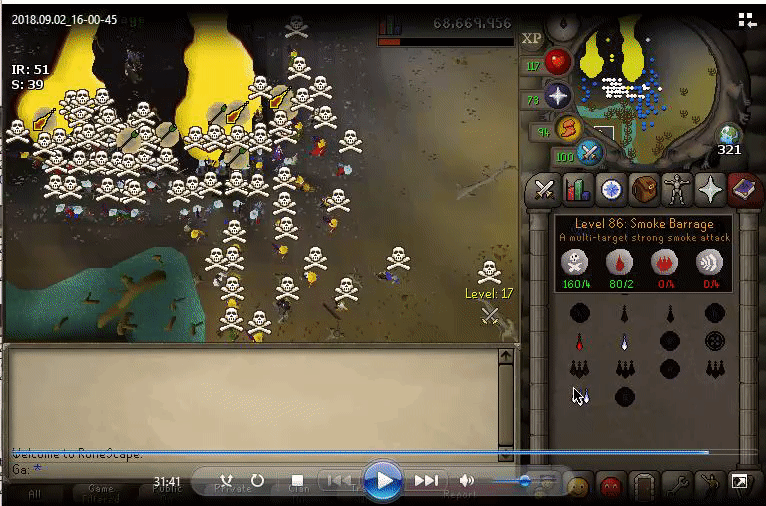 IR
and paid mains getting deleted from the game, trying to play the game they cannot handle. Remember you asked for this. Don't start shit you cannot finish.
October
13 October 2018
October was the true begining of the end for our dogs in
Intense Retardation
. On October 13th
IR
left with 80 pures and an additional 40 mains. We however were up for the challenge and fought them with our valiant 65 men (featuring 25 of our strongest runite anti-mains). After 45 minutes of non stop skull fucking action featuring 2 of our 3 dogs (
IR
and
Apex
) we emerged victorious when
IR
told their members to stop returning.
November
I will reiterate,
IR
has a higher turnover rate with members than McDonald's does with employees.
Demoralized because they spend their trips doing nothing,
IR
loses 25 members in a single trip. Pretty telling of your clan's quality. We sent you to clanwars because we did not allow you to step foot into our wilderness. It's pretty pathetic this one sided beating is considered a rivalry, considering most of
IR
's trip time is spent at edge furnace if not at clan wars. Just close already.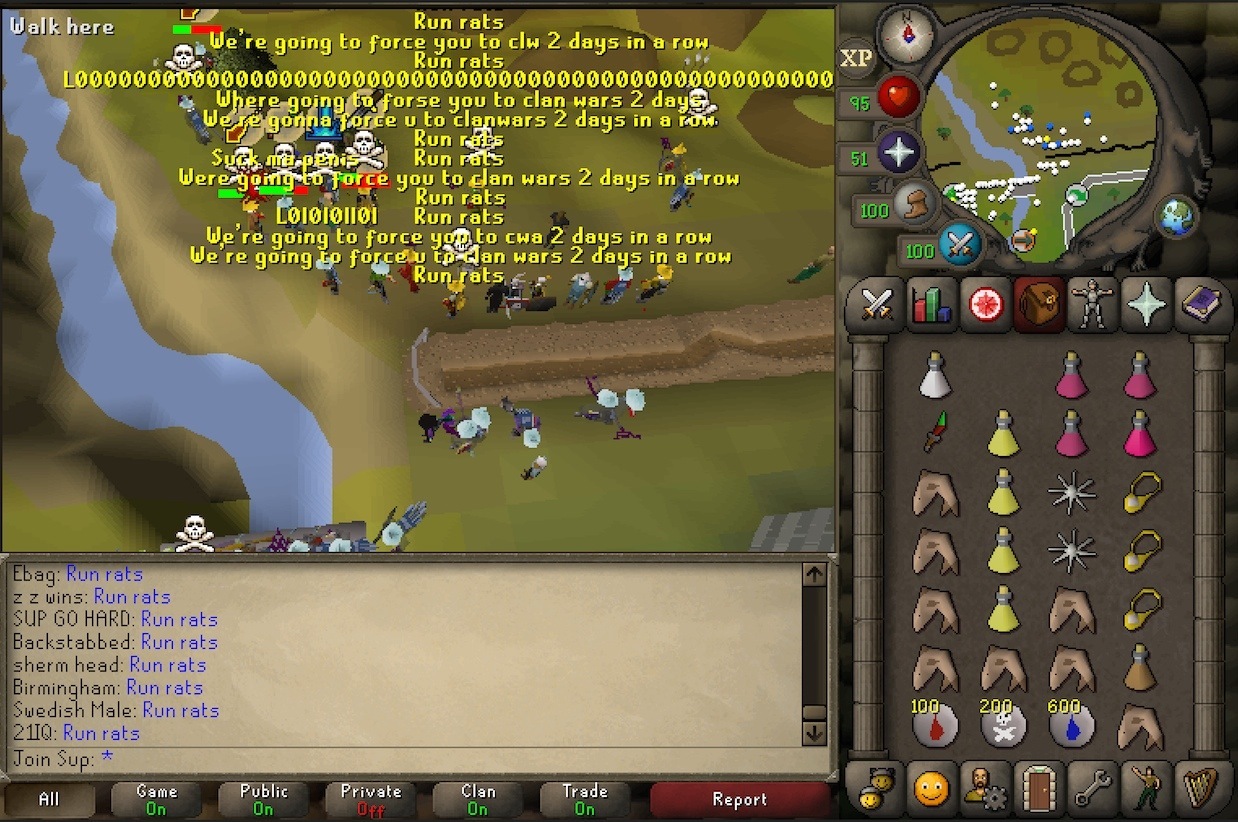 December
This trip summed up the entire
IR
rivalry pretty well, 4 hours of absolute punishment for the poor members of
IR
. I almost feel bad for them, but their leadership brought this upon them. I'll let Ham's POV do the honors of explaining what went down, it truly does serve it well.
IR
resorting to singles fighting after the severe punishment of the week prior, of course their shit quality members die to nrangers on the regular in their full on tribrid nh gear lmfao. I don't know why you guys think you're safer in singles, okay so you can't get gwased. But it's just as embarrassing that this is what happens to your clan regardless. You should become a pvming clan..
These are just some highlights, I shortened it down as best as I could.
2018 has been a great year for Supremacy, and
I want to thank you all for contributing to it. Happy new year everybody, looking forward to another year with my shooters here in Sup.